IL VALORE AGGIUNTO al PACKAGING
Realizzazioni ad hoc di complementi per il settore del packaging di lusso

Lamp propose itself as a comprehensive answer to the requests of the packaging market. Thanks to its craftsmanship and productive capacity combined with design software, LAMP can provide products custom-made specifically to the demands of our clients.
LAMP's creations are thought as "tailored suits", granting our clients the opportunity to have a product that will distinguish their packaging of choice from the standardized offer available on the market, therefore our products are intended for high profile markets.
Thought as an added value to packaging, our personalized enrichments can be applied within two macro sectors: glass packaging (primary packaging) and multi materials packaging (secondary packaging).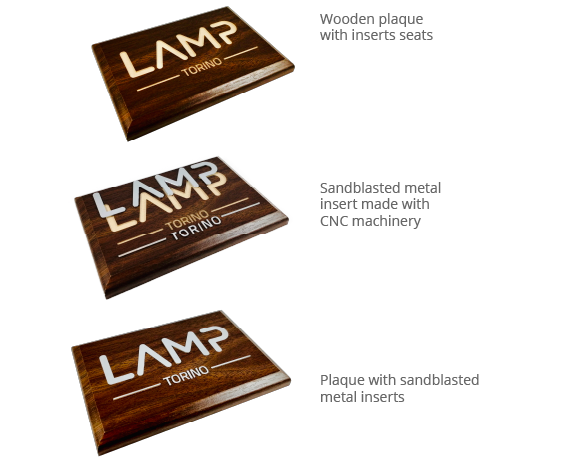 Following the definition of the market and target to which our Customers intend to address their packaging (whether in metal, paper, wood, leather or in multi-material), a first phase of evaluation and analysis of the specifications is faced in close collaboration with the Customer, aiming at the full satisfaction of the specifications provided.
The production process starts acquiring the necessary technical specifications and, in the case of prototyping, with the feasibility analysis and evaluation of materials. The technical experts develop drafts and graphic files to create the product. According to the specific requirements (sometimes a steel matrix is also needed), the minting department can take part in the project and the related production process can begin. Otherwise, CNC machining takes place.

Fine wood support with a multi-part polished brass logo tag. The logotype has been milled from one piece using a CNC machine and then placed, at the surface level, in its slot made by a previous low relief milling process.

Example of an elliptic 925/000 satin silver plate, personalized using a diamond drill engraving with a polish cut, suitable on multiple varieties of material used in the packaging.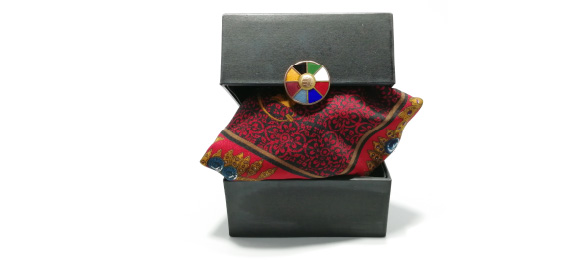 Example of a coined insert for a scarf holder, decorated with kiln enameling technique.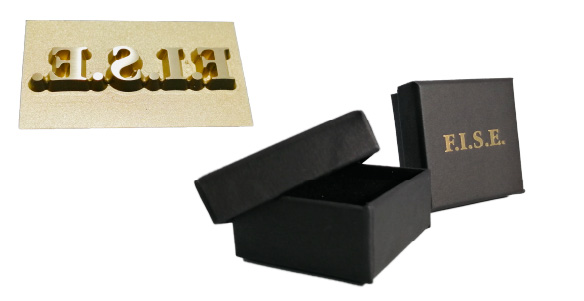 Brass cliché for hot stamping with logo created from a design.
Pin holder box made for the Italian Equestrian Sports Federation.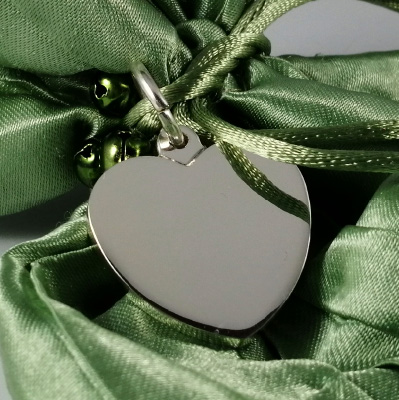 Our company has always cared about full customer satisfaction. In addition to the enrichment of primary and secondary packaging, LAMP also offers inserts that can be applied to the final packaging. Supporting the customer through the production of creations (charms, decorations on packaging etc.) that allow the final customer to recognize the product and its high quality.

The glass materials, known for their brilliance and transparency, offer the possibility of using a wide range of accessories that enrich and complete the final product with plays of light and contrasts. The enhancement of high perfumery and high-end spirits is translated by our company into production and prototyping of labels made with precious and non-precious metals, inserts for closures and seals for sealing wax based on the specific requests of the customer.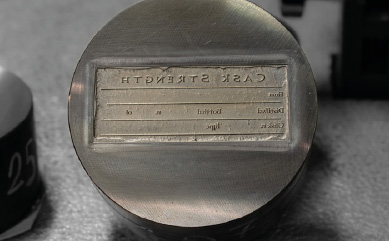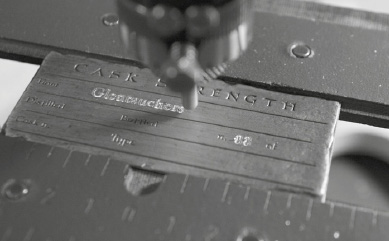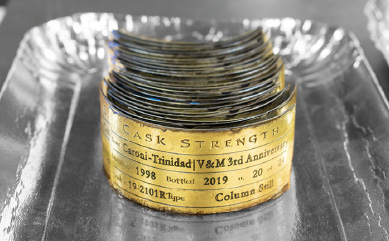 Tags and plaques created starting from a design, coined using three different kind of metal (brass, copper and aluminum).
The mold is made of stainless steel and a variety of techniques and then refined by hand with a finish done by antiquing the metal using manual craft processes.
Personalized diamond engraving and subsequent burnishing of every single piece.
The front side of the tag is treated with a double layer of a protective product while on the back, our manufacturers have applied a high strength double-sided adhesive.
Bending is done using a matrix and tested manually to allow for a perfect fitting on the round surface where the tag will be positioned.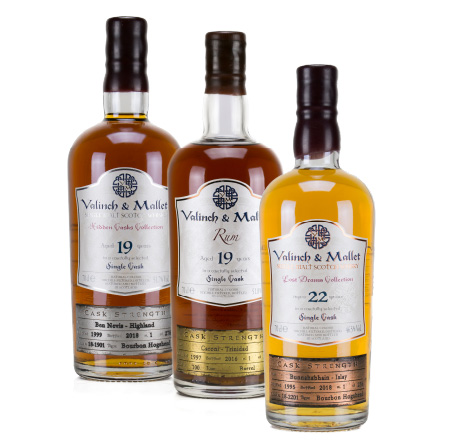 Prototypical insert variants made with coining technique, for application on glass packaging caps. Designed and created for Valinch & Mallet Limited, starting from the company logo and the finishing specifications provided by the Customer.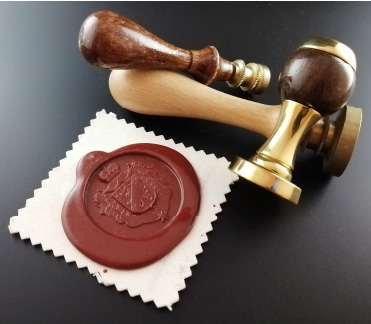 Example of sealing wax seal, applicable on paper inserts or directly on glass.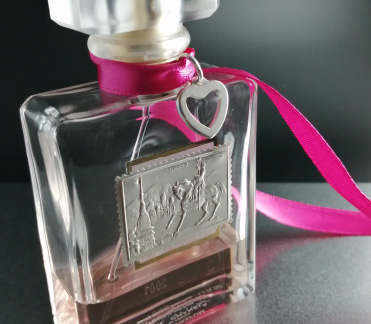 Silver label made with light plate technique. The reproduction used allows the enhancement of highly detailed subjects and logos, while maintaining reduced dimensions and thicknesses.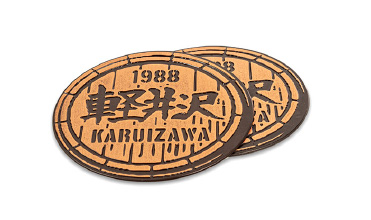 Copper enrichment realized upon specific requests for a mass application.
After the evaluation of the material, the dimension and of the application support, our manufacturers created a steel mold to perform the molding of the product from metal sheets instead of full metal, reducing the weight of the final product.
Finishing is done by burnishing and brushing the piece, this process makes the excavated parts darker and allows them to stand out.
The surface can be protected with a coat of transparent paint.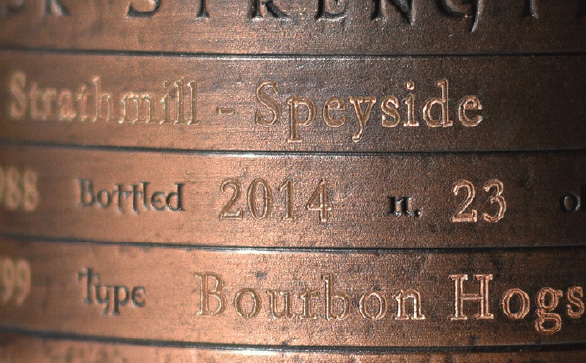 Mass production with customizations of the single product.
Metallic tags that could be calendered and/or flattened, embossed and shaped according to the design of choice
Plates coined and/or diamond engraved
Details, even of single pieces, milled and enameled (letters, numbers, symbols)
Sealing wax seals
Charms
Cliché
Coined items
Dry stamps
Tutti i prodotti sono realizzati secondo le specifiche tecniche, stilistiche e grafiche, del Cliente.
TECNICHE UTILIZZATE
Realizzazione di conii
Stampaggio da coniatura
Incisioni a diamante
Incisioni a fresa
Incisioni a rilievo
Incisioni a laser
Smaltatura a freddo
Smaltatura a caldo
Stampa a colori in quadricromia
Trattamento galvanico per oro e argento
Finiture a mano (Brunitura, lucidatura, sabbiatura etc)
DIMENSIONI E SPESSORI ETICHETTE E TARGHE
Le Dimensioni e le Forme sono stabilite a richiesta previa acquisizione da file o disegno.
Gli spessori, saranno di conseguenza determinati dal tipo di metallo utilizzato nonché dalla specifica esigenza del cliente.
PERSONALIZZAZIONI
Incisioni
Taglio lucido e/o brunito
Calandratura
Altro su richiesta (previa valutazione studio fattibilità)
MATERIALI
Alluminio
Rame
Ottone
Silverplated
Argento
Argento dorato
Oro